THE SALARYMAN SERIES
THE SALARYMAN (book edition)
Book is available in paperback and eBook formats.
English
Manga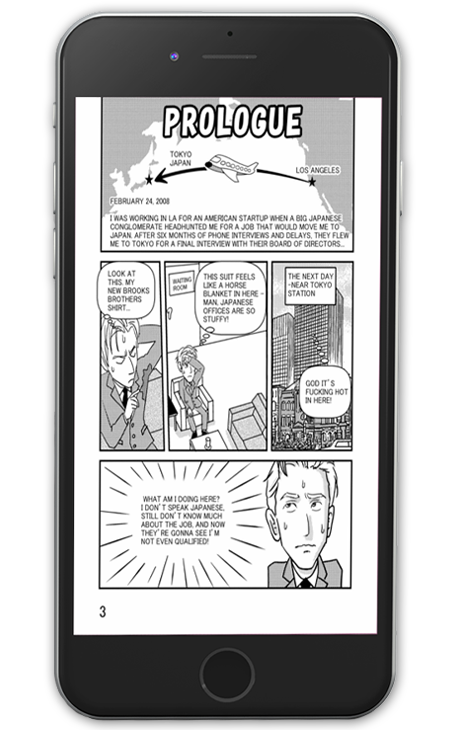 THE SALARYMAN (manga edition)
Short eBook comic based on the book.
日本の漫画
アメリカン サラリーマン (漫画)
本に基づく短い電子ブック漫画エピソード。
---
BOOK REVIEWS
"Thoroughly entertaining…astute…A true insider's look at corporate Japan."
"Fun, digestible and relatable"
"Excellent portrayal of just how shocking culture shock can be"
"Made me laugh out loud…exposing the underside of Japanese business"
"Introduces the average salaryman life in a comic, interesting and entertaining way"
"Exhilarating, funny, yet very insightful take on Japan"
NEW SERIES COMING SOON
TOKYO HUSTLE
It's 2010 and the Japanese economy reels from the Great Recession. Unemployed Tokyo American Bill Smaha lands a job at Spotronics Japan, the local office of a U.S. microchip manufacturer, and is thrown into a baffling white-collar life: married colleagues use secret bank accounts to fund their nightlives, managers create projects out of boredom and execs are on the take. Hard-core salaryman Hiro Osaka takes Bill under his wing and soon both are assigned to a shady subsidiary company. As signs of corporate misdeeds emerge, Bill faces an identity crisis: is he a loyal salaryman, or an American whistleblower?
Join my mailing list for updates
WATCH AUTHOR YOUTUBE INTERVIEW
Meet Michael Thuresson
Author of books, manga and more
Michael Thuresson is based in Tokyo and hails from Chicago. He was a journalist in Los Angeles before he moved to Japan and became a Tokyo white-collar warrior in 2008. His first book, The Salaryman, was the result of that experience.
SIGNUP TO GET SAMPLE CHAPTERS AND AUTHOR UPDATES!
FROM THE BLOG
It's almost scary how small a world Tokyo can be for foreigners. I texted an American friend of mine here about my previous Bumble date with "F-CUP Japanese" and he replied,…
Date #2: I next connected on the Bumble app with a Chinese woman who worked for a Japanese food delivery app company and looked athletic, slim and kind. This time I…
The woman's dating app profile said she was German, 42, lived in Japan since 2012, enjoyed hot springs and was "looking for serious guys only. No ONS, FWB or BDSM". Google…